Star Wars Theme / Samuel Kim
In the making the original Star Wars
some of the Stars used to laugh at George Lucas behind his back
– that they were involved in such a crazy project.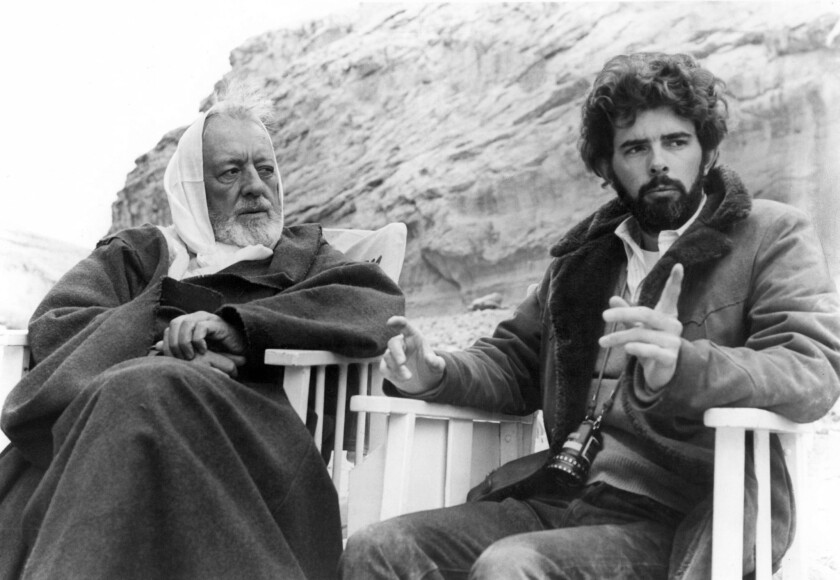 Above: Young George Lucas with Alec Guinness / 1977
Below: Star Wars lineup 1977
I met a gal who said she had gone to see
the original movie 13 times.
When they camp out that means it's a hit.

The Steal of the Century
George Lucas offered 20th Century (Fox) Studios to keep his salary for Star Wars at $150,000
in exchange for two seemingly insignificant requests:
#1) That he retain all merchandising rights,
#2) that he would retain the rights to any sequels.
How One Brilliant Decision In 1973 Made George Lucas A Multi-Billionaire Today
" … But the real money for George didn't come from box office receipts. Between 1977 and 1978, Star Wars sold $100 million worth of toys. 35 years later and Star Wars themed toys have generated $12 billion in revenue. Today, Star Wars licensed toys produce $3 billion a year in revenues. And keep in mind, after the first film George owned 100% of the rights to the entire franchise. The next five Star Wars movies would go on to earn an additional $3.5 billion at the box office. In total, the Star Wars empire has sold $4 billion worth of DVDs and VHS, $3 billion worth of video games, $2 billion worth of books and another $1.3 billion through various other licensing deals. That brings the grand grand revenue total after 35 years worth of Star Wars licensing to $27 billion. After expenses, taxes, fees, etc. George Lucas had earned himself an impressive $3.3 billion net worth by 2012. Then, Disney came calling.
Back in 2012, Disney paid George $4 billion to purchase the entire franchise outright …
… for that single brilliant decision made back in 1973. George Lucas essentially traded $350,000 for more than $5 billion.
George Lucas is a very rich man. In fact, out of all the extremely rich celebrities on the planet, George Lucas is the most extremely rich celebrity, with a personal net worth of $5.4 billion. "
If this had all never really happened who would believe it ?