Some actors seem born to be in Westerns …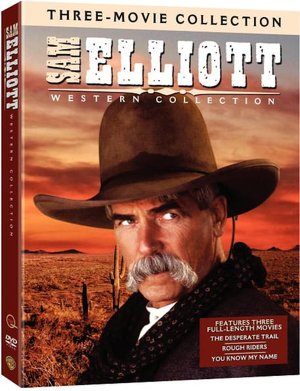 Wikipedia: http://en.wikipedia.org/wiki/Sam_Elliott:
Samuel Pack "Sam" Elliott (born August 9, 1944) is an American actor. His rangy physique, thick horseshoe moustache, deep, resonant voice, and Western drawl lend to frequent casting as cowboys and ranchers.
… One of his first film roles was as 'Card Player #2' in Butch Cassidy and the Sundance Kid (1969).
… In 1979, he played the oldest brother in the made-for-TV miniseries The Sacketts, also starring Tom Selleck, Ben Johnson, Slim Pickens, Glenn Ford, Ruth Roman, Mercedes McCambridge, Jack Elam, and Gilbert Roland, among others.
… including Buffalo Girls (1995) in which he played Wild Bill Hickok. In 1998, Elliot was named the Grand Marshal of the Calgary Stampede parade and rode in the procession before 300,000 spectators. He has also starred in Road House (1989) with Patrick Swayze and played Virgil Earp in Tombstone (1993), which starred Kurt Russell and Val Kilmer.
Sam Elliott Website: A Tribute to Sam Elliott: http://www.automatedculture.com/sam_elliott/
"I`ve spent my entire career on horseback or on a motorcycle."
Saddledome Rise SE, Calgary, AB T2G, Canada